Teens
Duke Otherwise
Monday, July 30th @ 6:00 PM
Final Monday Music on the Patio Concert!
Duke Otherwise is a playful wordsmith, a spirited performer, a skilled guitarist and captivating tap-dancer. Using his distinct baritone, he sings his hilarious and imaginative songs that all ages will delight in together. From Madison, WI, Duke performs around 150 family shows per year; each filled with audience participation, dancing, a vast array of musical styles, and Outrageous Fun!
Bring lawn chairs, a picnic supper, and the whole family and get ready for a wild and wonderful grand finale to our Monday Music on the Patio series.
Tween Book Club
July 23 @ 4:00 PM
The Birchbark House by Louise Erdrich
Nineteenth-century American pioneer life was introduced to thousands of young readers by Laura Ingalls Wilder's beloved Little House books. With The Birchbark House, award-winning author Louise Erdrich's first novel for young readers, this same slice of history is seen through the eyes of the spirited, 7-year-old Ojibwa girl Omakayas, or Little Frog, so named because her first step was a hop. The sole survivor of a smallpox epidemic on Spirit Island, Omakayas, then only a baby girl, was rescued by a fearless woman named Tallow and welcomed into an Ojibwa family on Lake Superior's Madeline Island, the Island of the Golden-Breasted Woodpecker. We follow Omakayas and her adopted family through a cycle of four seasons in 1847, including the winter, when a historically documented outbreak of smallpox overtook the island. – Goodreads.com
Join us for a Native American snack and a craft activity too! Stop by the library to pick up a copy of the book and sign up for the book club discussion.
Teen Book Club Interview with author Adam Rex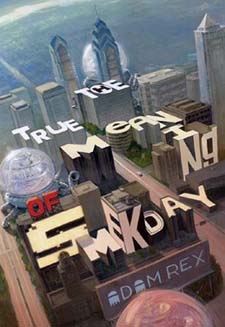 Check out this interview with the author of one of our favorite reads, The True Meaning of Smekday. We have often read the book for an end of the year selection (just because we like it so much). Adam Rex offered to answer questions for our group, take a look at what he had to say.