Teens
Tween Book Club
October 15 @ 4:00 PM
The Adventures of Nanny Piggins, by R.A. Spratt
The woman was not a woman. She was a pig. A common, pink farm pig. The type bacon came from. 

"Good evening, I am Nanny Piggins," said Nanny Piggins the pig.When stingy Mr. Green planted a Nanny Wanted sign on his front lawn for his three children, he had no idea his ad would be answered by a pig. Yes, a pig. A fabulously sassy and impeccably dressed pig as a matter of fact! With her insatiable urge to eat chocolate (and feed chocolate to everyone she loves), her high-flying spirit, and her unending sense of fun, Nanny Piggins takes Derrick, Samantha, and Michael on a year of surprises, yummy treats, and adventures they'll never forget. Paired with Dan Santat's charming illustrations, comedian and children's TV writer R.A. Spratt's wildly funny debut novel will have adults and kids alike laughing and rooting for the feisty porcine nanny and her three lovable human charges.
DELICIOUS SNACKS PROVIDED! JOIN US!
Lego Club
for ages 5 and above
Monday, Oct. 8, Nov. 5 and Dec. 10 @ 4-5PM
Bring your friends and join us in exploring the different possibilities of building with LEGOS. There will be a different theme each month.
Please call 798-3881 to sign up.
Teen Book Club Interview with author Adam Rex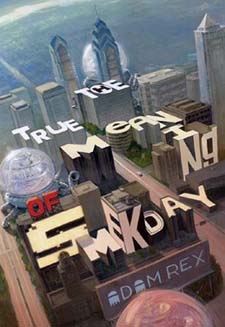 Check out this interview with the author of one of our favorite reads, The True Meaning of Smekday. We have often read the book for an end of the year selection (just because we like it so much). Adam Rex offered to answer questions for our group, take a look at what he had to say.