Kids & Families
August Storytimes
Saturday, August 11: Special storytime for Ice Age Trail Days (for all ages)
Come in beginning at 9 to make a pair of binoculars, go on a hike, then come back at 10:30 for stories!
Wigglers and Gigglers (babies and toddlers) - 10 AM
8/14 and 8/21
Big Kids Booktime (ages 3-6) - 10 AM
8/16: Here Comes the Bus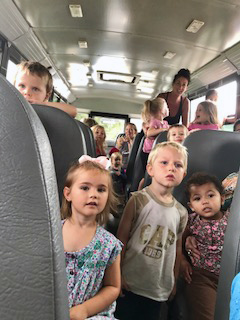 Storytime on a Schoolbus!
8/23: Ready for School

Please take children out of the room if they need a break, so that others can focus on the program. Do come on back when they are calm and ready to listen.
Tween Book Club
August 20 @ 4:00 PM
Be a Book Reviewer
Do you have a book you have been wanting to read? Did you read something you LOVED this summer? Bring it to the book club meeting on August 20th and see if you can convince everyone else to read it too.
DELICIOUS SNACKS PROVIDED! JOIN US!
Read to a Dog
Mondays, August 20, September 17, October 15
Between 4:00 and 5:30 PM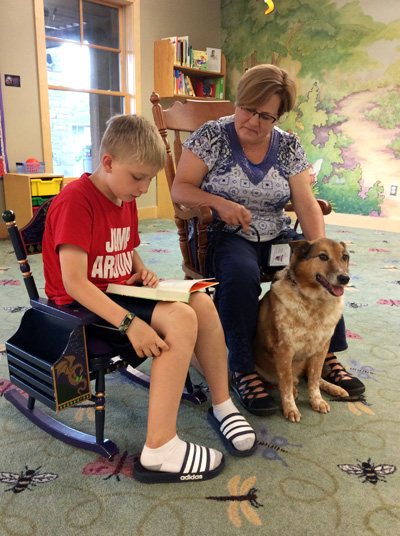 Chase, is a Collie/Australian Cattle Dog mix. He loves kids and snuggling and loves to be read to. This program is for all ages of children, and is particularly valuable for reluctant readers. Yet another great way to get some reading in over the summer months.
Stop by the service desk, or call 608-798-3881 to sign up for a 15 minute time slot, for your reader.
Chase's story has been published! Check it out.
Friends Fall Used Book Sale
New Storm Drain Mural – We're on the map!
Do you know where the water that washes down your storm drain goes? A new Storm Drain Mural Program led by the Madison Area Stormwater Partnership, Dane County Land and Water Resources Dept. and Dane Arts Mural Arts (DAMA) is using art as a vessel to help teach students and communities across Dane County about stormwater. Once completed their map will highlight 20 storm drain murals across Dane County. Check them out at www.ripple_effects.com, and click on Cross Plains! Along with the DAMA team and high school student volunteers, we had three Cross Plains students helping: Zoe Hyland, Julia Burkholder, and Megan Peters.
Parent Zone
Are you about to embark on a new adventure like potty training your child? There is help waiting for you in the Parent Zone of our children's department. Take a look at the variety of resources this special collection has to offer.