Kids & Families
Saturday Morning at the Movies
Saturday, December 15, 10:30 - 12:30
Incredibles 2 by Disney/Pixar Studios
As the 2018 People's Choice Award winner for Favorite Family Movie, you'll definitely want to catch this one! The same all-star cast of the Parr family that rocked the superhero world in the original Incredibles movie is back for more laughter-filled exciting adventures. Join us for some cozy family time, and a break from the holiday shopping rush. Fresh and delicious popcorn for all. Rated PG, run time 118 minutes.
** Enter to win a $25 movie gift card by making a suggestion for our Saturday Morning at the Movies family movie series for next season! You need not be present to win, you can call the library 798-3881 with your suggestion and we'll enter your name! **
Tween Book Club
Monday, December 17 @ 4:00 PM
The True Meaning of Smekday, by Adam Rex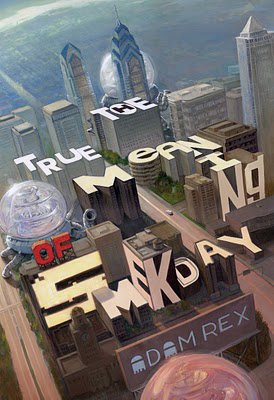 When her mother is abducted by aliens on Christmas Eve (or "Smekday" eve since the Boov invasion), 11 year-old Tip hops in the family car and heads south to find her.She meets an alien Boov mechanic who agrees to help her and save the planet from disaster. This book has been universally enjoyed by readers of all ages!
After the book discussion we will have our annual HOLIDAY COOKIE SWAP! Please bring a batch of your favorite cookies to share.
All are welcome. Copies of the book are available at the library circulation desk, please stop by to pick up a copy and sign up for this fun event!
Special Storytime!
Please join us the first week of December for two special musical programs with Music Together™ teacher, Catherine Olson.
Tuesday, December 4th @ 10 for Wigglers and Gigglers (babies and toddlers)
Thursday, December 6th @ 10 for Big Kids Booktime (ages 3-5)
Fall Storytimes
Colors and Numbers and Shapes, Oh My!
Join us for Wigglers and Gigglers (babies and toddlers) storytimes every Tuesday at 10, and Big Kids Booktime every Thursday at 10.
Summer Library Program Raises Funds for Cross Plains Schools
Pictured here are children's librarian, Catherine Baer, Stacy Eslinger (St. Francis Xavier), Emily Spahn (Park Elementary) and Anne Vanderbloomen (Glacier Creek)
We can make a difference as a community. Over the past few years, we have offered kids the opportunity to earn a charitable donation with their reading, instead of a chance at a grand prize. This summer, for our Libraries Rock summer reading program, our registered readers raised funds for the three school music departments in Cross Plains. Each week that a participant completed their reading goal, they were invited to come in for a small prize, and put a note up on the music sheet for their "band" (school). Community sponsors donated funds, so that the children wouldn't need to solicit funds on their own. We would like to thank those in the community for sponsoring the donation:
Century 21 Affiliated - Mike Roessler, Cross Plains Lions Club, Cross Plains Optimist Club, Heid Music, Kwik Trip, Midwest Dental and the State Bank of Cross Plains.
We owe many thanks as well to our guest performer and program sponsors:
The Friends of the Rosemary Garfoot Public Library, Heid Music, the South Central Library System, Saeman Lumber, Lancaster's Piggly Wiggly, and Rick Scott.
Reading Incentive Sponsors:
Heid Music, Pizza Hut, Schuster's Playtime Farm, Eugster's Farm, Dane County Fair, Madison Mallards and the MIlwaukee Public Museum
Program Presentation Volunteers:
Krista Thusius, Renee Frye, Erica Wagoner, and Anne Moser
Program Help Volunteers and Reading Buddies:
Josh Leslie, Jake Leslie, Sandra Culligan, Sinead Culligan, Zoe Ystenes, Cadence Wells, Susan Moss, Jane Moritz, and Elaine Dorn
And many, many thanks to all who support our library!
New Storm Drain Mural – We're on the map!
Do you know where the water that washes down your storm drain goes? A new Storm Drain Mural Program led by the Madison Area Stormwater Partnership, Dane County Land and Water Resources Dept. and Dane Arts Mural Arts (DAMA) is using art as a vessel to help teach students and communities across Dane County about stormwater. Once completed their map will highlight 20 storm drain murals across Dane County. Check them out at www.ripple_effects.com, and click on Cross Plains! Along with the DAMA team and high school student volunteers, we had three Cross Plains students helping: Zoe Hyland, Julia Burkholder, and Megan Peters.
Parent Zone
Are you about to embark on a new adventure like potty training your child? There is help waiting for you in the Parent Zone of our children's department. Take a look at the variety of resources this special collection has to offer.