Library News
Employment Opportunity
New Photography Exhibit
My Catharsis
Photographs by Lucy Ramirez Cornejo
August 12th through October 13th
This exhibit was inspired by Lucy's experiences while working for her State's Government in Mexico. Being subjected to misogyny and sexual harassment, Lucy has turned a profoundly negative experience into something beautiful. Don't miss this outstanding show.
August Storytimes
Saturday, August 11: Special storytime for Ice Age Trail Days (for all ages)
Come in beginning at 9 to make a pair of binoculars, go on a hike, then come back at 10:30 for stories!
Wigglers and Gigglers (babies and toddlers) - 10 AM
8/14 and 8/21
Big Kids Booktime (ages 3-6) - 10 AM
8/16: Here Comes the Bus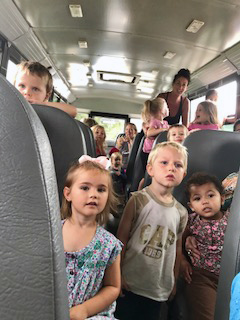 Storytime on a Schoolbus!
8/23: Ready for School

Please take children out of the room if they need a break, so that others can focus on the program. Do come on back when they are calm and ready to listen.
Free Job Fair Preparation Workshop Here!
August 17th, 9:30 AM
A representative from the Job Center of Wisconsin will be here to host a workshop providing tips on how to best prepare for the upcoming Dane County Regional Job Fair which will be held on August 29th at the Alliant Energy Center. If you can't make it in the morning, the workshop will be offered at the Mount Horeb Public Library the afternoon of 8/17 and at the Dane County Job Center on 8/18, 8/15 and 8/22. Go here for times. You can register online or contact Job Service at 608-242-4900 #2.
A Wisconsin Department of Workforce Development Job Service representative will return to the library on September 21st, 9:00 AM - noon, to provide one-on-one assistance with job searching, resume writing and editing, interview skills, etc. Call to make an appointment today! Walk-ins are also welcome!
Check out the Job Services website for information about current opportunities.
Tween Book Club
August 20 @ 4:00 PM
Be a Book Reviewer
Do you have a book you have been wanting to read? Did you read something you LOVED this summer? Bring it to the book club meeting on August 20th and see if you can convince everyone else to read it too.
DELICIOUS SNACKS PROVIDED! JOIN US!
Read to a Dog
Mondays, August 20, September 17, October 15
Between 4:00 and 5:30 PM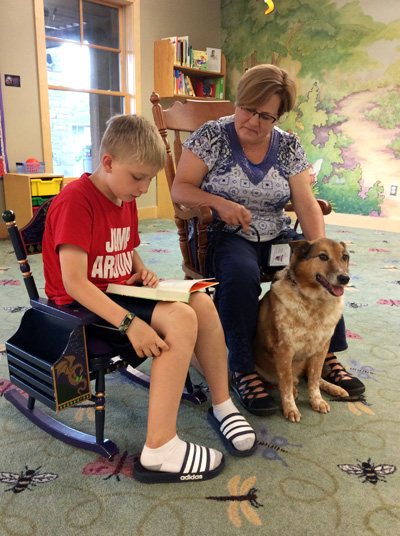 Chase, is a Collie/Australian Cattle Dog mix. He loves kids and snuggling and loves to be read to. This program is for all ages of children, and is particularly valuable for reluctant readers. Yet another great way to get some reading in over the summer months.
Stop by the service desk, or call 608-798-3881 to sign up for a 15 minute time slot, for your reader.
Chase's story has been published! Check it out.
92.5 - Your Local Radio Station
Wednesday, Sept 5th at 6:30 PM
Did you know there's a local radio station serving Mazoanie, Black Earth, and Cross Plains? Mike Forkal and Jim Schroeder will be here to talk about the history of WISY, current programming, and possibilities for the future. Sign up is appreciated, but not required. Please call 798-3881.
Morning Movie
GAME NIGHT
Wednesday, September 12th at 9:30 AM
Please call 798-3881 to sign up.
Max (Jason Bateman) and Annie's (Rachel McAdams) weekly couples game night gets kicked up a notch when Max's charismatic brother arranges a murder mystery party, complete with fake thugs and faux federal agents. So when Brooks gets kidnapped, it's all part of the game--right? But as the six uber-competitive gamers set out to solve the case and win, they begin to discover that neither this game--nor Brooks--are what they seem to be.  With several clever plot twists, this dark comedy keeps the surprises coming. Rated R. Run time is 114 minutes.
The coffee is ready at 9:00 AM so please join us a little early!
Friends Fall Used Book Sale
Alice's Ordinary People
Documentary Screening with Filmmaker,
Craig Dudnick
Thursday, September 27th at 6:30 PM
Join filmmaker and director, Crain Dudnick, for the free screening of his one-hour documentary film, Alice's Ordinary People, that explores the life and times of Chicago Civil Rights activist, Alice Tregay. Alice's inspiring story is about ordinary people effecting extraordinary change for human rights.
After the screening, Dudnick will share how he came to make the film and answer questions. Light refreshments will be served. Sign up is appreciated but not required. Call 798-3881.
Summer Library Program Raises Funds for Cross Plains Schools
Pictured here are children's librarian, Catherine Baer, Stacy Eslinger (St. Francis Xavier), Emily Spahn (Park Elementary) and Anne Vanderbloomen (Glacier Creek)
We can make a difference as a community. Over the past few years, we have offered kids the opportunity to earn a charitable donation with their reading, instead of a chance at a grand prize. This summer, for our Libraries Rock summer reading program, our registered readers raised funds for the three school music departments in Cross Plains. Each week that a participant completed their reading goal, they were invited to come in for a small prize, and put a note up on the music sheet for their "band" (school). Community sponsors donated funds, so that the children wouldn't need to solicit funds on their own. We would like to thank those in the community for sponsoring the donation:
Century 21 Affiliated - Mike Roessler, Cross Plains Lions Club, Cross Plains Optimist Club, Heid Music, Kwik Trip, Midwest Dental and the State Bank of Cross Plains.
We owe many thanks as well to our guest performer and program sponsors:
The Friends of the Rosemary Garfoot Public Library, Heid Music, and the South Central Library System
Reading Incentive Sponsors:
Heid Music, Pizza Hut, Schuster's Playtime Farm, Eugster's Farm, Dane County Fair, Madison Mallards and the MIlwaukee Public Museum
Program Presentation Volunteers:
Krista Thusius, Renee Frye, Erica Wagoner, and Anne Moser
Program Help Volunteers and Reading Buddies:
Josh Leslie, Jake Leslie, Sandra Culligan, Sinead Culligan, Zoe Ystenes, Cadence Wells, Susan Moss, Jane Moritz, and Elaine Dorn
And many, many thanks to all who support our library!
Closed Labor Day
New Storm Drain Mural – We're on the map!
Do you know where the water that washes down your storm drain goes? A new Storm Drain Mural Program led by the Madison Area Stormwater Partnership, Dane County Land and Water Resources Dept. and Dane Arts Mural Arts (DAMA) is using art as a vessel to help teach students and communities across Dane County about stormwater. Once completed their map will highlight 20 storm drain murals across Dane County. Check them out at www.ripple_effects.com, and click on Cross Plains! Along with the DAMA team and high school student volunteers, we had three Cross Plains students helping: Zoe Hyland, Julia Burkholder, and Megan Peters.
Carpe Librum Book Discussion Group
Materials Donations to the Library
The Friends of the Rosemary Garfoot Public Library are asking for donations of gently used books, DVDs, CDs, puzzles, and games to be sold at their book sales. Before you pack up you donations, please check out the list of items the Friends can and cannot accept.
Please drop your items off at the library during open library hours, and let us know if you want a tax receipt. Proceeds from the sales are used to support programming and special projects.
Get Your Cap Times Here!
The library now carries the weekly Cap Times. Stop by each week, and get your free copy
Library is Local Drop-off Site for the Mazomanie Food Pantry
When you return your library materials, don't forget to bring in a non-perishable item for the food pantry. Your donations are much needed and greatly appreciated! No expired or previously opened food, please.
Open Music Jam
Do you have a guitar gathering dust? Are you a harmonica player without a band? Don't play an instrument, but like to sing or simply listen? Stop by the library on Thursday nights at 6:00 and join other area musicians in a weekly music jam! From beginner to way good, all abilities welcome!
Beyond the Page
Join the Beyond the Page campaign, a joint effort of the Dane County Library Service and the Madison Community Foundation to create a permanent endowment that will support humanities programming in all 28 public libraries in Dane County – forever. Please help support our library's access to funding for future programs.
Listen to an interview about the campaign with Tom Linfield of the Madison Community Foundation, Verona Public Library's former director, Brian Simons, and NPR's Kathleen Dunn.
Read WISC Editorial Director Neil Heinen's editorial about the campaign.
eBook News
The library system's Overdrive eBook collection is now compatible with the Kindle, Nook, and Reader as well as other mobile devices. To get started right away go to the Digital Download Center.