Library News
Duke Otherwise
Monday, July 30th @ 6:00 PM
Final Monday Music on the Patio Concert!
Duke Otherwise is a playful wordsmith, a spirited performer, a skilled guitarist and captivating tap-dancer. Using his distinct baritone, he sings his hilarious and imaginative songs that all ages will delight in together. From Madison, WI, Duke performs around 150 family shows per year; each filled with audience participation, dancing, a vast array of musical styles, and Outrageous Fun!
Bring lawn chairs, a picnic supper, and the whole family and get ready for a wild and wonderful grand finale to our Monday Music on the Patio series.
Free Job Fair Preparation Workshop Here!
August 17th, 9:30 AM
A representative from the Job Center of Wisconsin will be here to host a workshop providing tips on how to best prepare for the upcoming Dane County Regional Job Fair which will be held on August 29th at the Alliant Energy Center. If you can't make it on that day, the workshop will be offered at the Mount Horeb Public Library the afternoon of 8/17 and at the Dane County Job Center on 8/18/18, 8/15/18 and 8/22/18. Go here for times. You can register online or contact Job Service at 608-242-4900 #2.
Also, next week there are three on-site hiring events at the Dane County Job Center on Aberg Avenue!
A Wisconsin Department of Workforce Development Job Service representative will return September 21st, 9:00 AM - noon to provide one-on-one assistance with job searching, resume writing and editing, interview skills, etc. Call to make an appointment today! Walk-ins are also welcome!
Check out the Job Services website for information about current opportunities.
Tween Book Club
July 23 @ 4:00 PM
The Birchbark House by Louise Erdrich
Nineteenth-century American pioneer life was introduced to thousands of young readers by Laura Ingalls Wilder's beloved Little House books. With The Birchbark House, award-winning author Louise Erdrich's first novel for young readers, this same slice of history is seen through the eyes of the spirited, 7-year-old Ojibwa girl Omakayas, or Little Frog, so named because her first step was a hop. The sole survivor of a smallpox epidemic on Spirit Island, Omakayas, then only a baby girl, was rescued by a fearless woman named Tallow and welcomed into an Ojibwa family on Lake Superior's Madeline Island, the Island of the Golden-Breasted Woodpecker. We follow Omakayas and her adopted family through a cycle of four seasons in 1847, including the winter, when a historically documented outbreak of smallpox overtook the island. – Goodreads.com
Join us for a Native American snack and a craft activity too! Stop by the library to pick up a copy of the book and sign up for the book club discussion.
Music with Corey
Tuesdays, 7/3 - 7/31 @ 10 AM
Hart House Music presents Music with Corey,
a fun and interactive musical experience for preschool aged children and their families. Come join in the fun, sing songs, and play along. Corey Mathew Hart is a certified Music Together® Teacher and a local musician who has won several MAMAs (Madison Area Music Association awards), as well as Overture's Rising Stars competition in 2014. He loves sharing his joy of music with children, creating an enriching experience for them.
Lunch Bunch in the Park
Wednesdays @ noon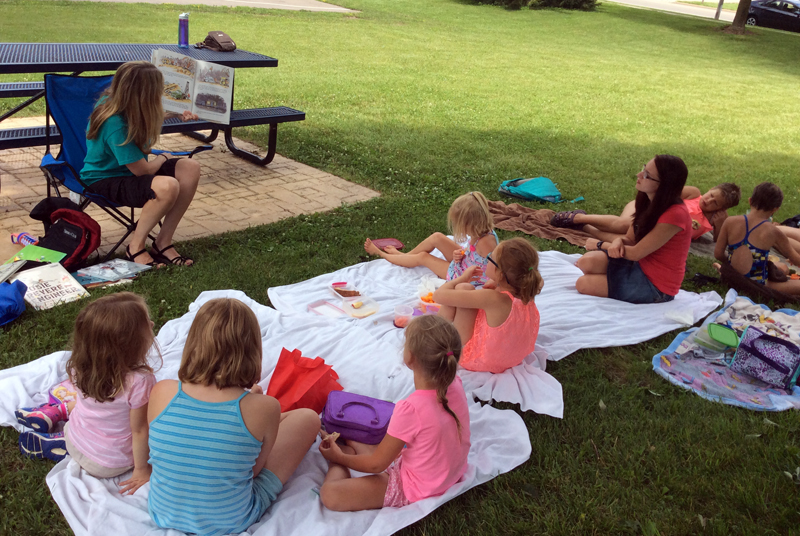 Join us for a lunch storytime at a different park in Cross Plains each week! Bring a lunch and listen to some stories. Best for kids ages 4-9. In case of inclement weather, the session will be held in the library's community rooms. Check the schedule below for each week's location.
Lunch Bunch Schedule:
July 25 – Glacial Valley Park, 2119 Hillebrand Dr.
Aug. 1 – Baer Park, 2620 Church St.
Read to a Dog
Mondays, July 16 and August 20
Between 4:00 and 5:30 PM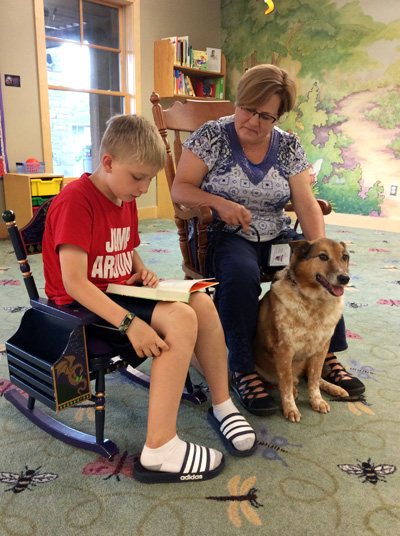 Chase, is a Collie/Australian Cattle Dog mix. He loves kids and snuggling and loves to be read to. This program is for all ages of children, and is particularly valuable for reluctant readers. Yet another great way to get some reading in over the summer months.
Stop by the service desk, or call 608-798-3881 to sign up for a 15 minute time slot, for your reader.
Chase's story has been published! Check it out.
Carpe Librum Book Discussion - July Selection
Summer LIbrary Program
Stop by the library to get a reading record and get ready to rock out with our programs.
See the full list of events here.
Find the Lunch Bunch in the Park schedule here.
Adult Summer Library Program
June 11th - August 3rd
Just because "school's out for summer" doesn't mean it's all about the kids! Adults 18 and up can have some fun, too! This year's Adult Reading Program GRAND PRIZE is a $200 OVERTURE CENTER GIFT CERTIFICATE! You can also play our WEEKLY MUSIC GAMES for a chance to win $10 gift cards. Get the details here!
Materials Donations to the Library
The Friends of the Rosemary Garfoot Public Library are asking for donations of gently used books, DVDs, CDs, puzzles, and games to be sold at their book sales. Before you pack up you donations, please check out the list of items the Friends can and cannot accept.
Please drop your items off at the library during open library hours, and let us know if you want a tax receipt. Proceeds from the sales are used to support programming and special projects.
Get Your Cap Times Here!
The library now carries the weekly Cap Times. Stop by each week, and get your free copy
Library is Local Drop-off Site for the Mazomanie Food Pantry
When you return your library materials, don't forget to bring in a non-perishable item for the food pantry. Your donations are much needed and greatly appreciated! No expired or previously opened food, please.
Open Music Jam
Do you have a guitar gathering dust? Are you a harmonica player without a band? Don't play an instrument, but like to sing or simply listen? Stop by the library on Thursday nights at 6:00 and join other area musicians in a weekly music jam! From beginner to way good, all abilities welcome!
Beyond the Page
Join the Beyond the Page campaign, a joint effort of the Dane County Library Service and the Madison Community Foundation to create a permanent endowment that will support humanities programming in all 28 public libraries in Dane County – forever. Please help support our library's access to funding for future programs.
Listen to an interview about the campaign with Tom Linfield of the Madison Community Foundation, Verona Public Library's former director, Brian Simons, and NPR's Kathleen Dunn.
Read WISC Editorial Director Neil Heinen's editorial about the campaign.
eBook News
The library system's Overdrive eBook collection is now compatible with the Kindle, Nook, and Reader as well as other mobile devices. To get started right away go to the Digital Download Center.