Adults
Adults
Hidden Voices Presents: African American Writers of Resistance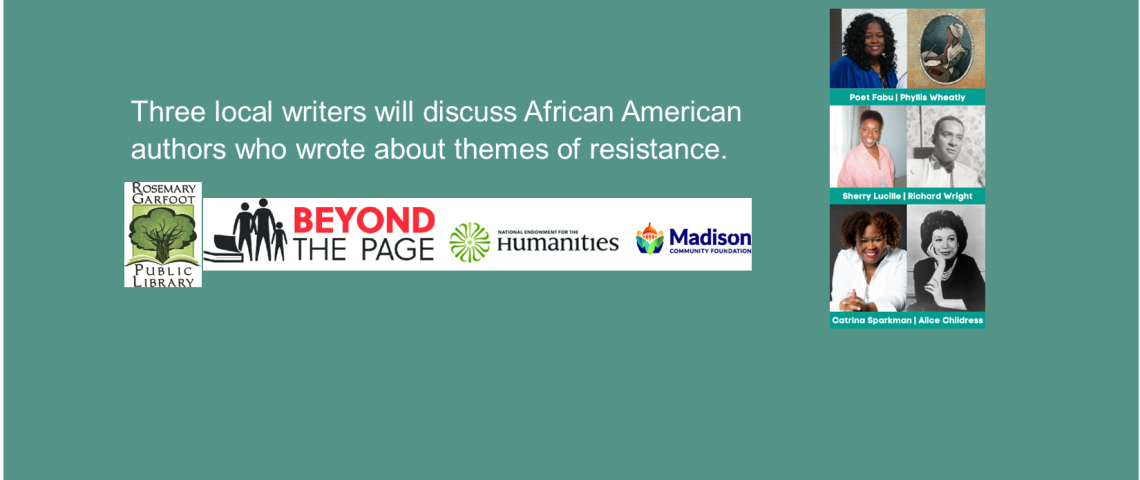 Three local writers will discuss African American authors who wrote about themes of resistance in their poetry, novels and plays.  These are writers who utilized their works to offer critical commentary on the racism that African Americans face.  The three contemporary authors will discuss three major Black literary figures; Phillis Wheatley, Richard Wright and Alice Childress and their theme of resisting injustice and also connect their work to the same themes in their own writings.  There will also be a question and answer period.
Registration is required.  Please call 608-798-3881 or email csplib@rgpl.org.
Fabu Phillis Carter is an artist professionally known as Poet Fabu in Madison, Wisconsin. She is a poet, columnist, storyteller, and teaching artist who writes to encourage, inspire and remind. Selected as the first African American to become a Madison Poet Laureate (2008-2012), she continues to share the Black experience living in the South, the Midwest and in Africa. She served as poetry editor for Umoja Magazine and Madison Magazine. In 2019, she was poetry editor for the Wisconsin Fellowship of Poets annual edition. She currently serves as poetry editor for the Capitol City Hues and is a culture columnist for the Cap Times newspaper. Dr. Fabu Carter has a PhD from the University of Nairobi, the African Women's Center. She was recently selected as a Commissioner for the Madison Arts Commission.
Sherry Lucille is a Motivational Speaker, Life Coach and Author. As founder of Inspiring Destiny, she seeks to help people to unlock their hidden potential and to live life brilliantly. Her published works include the Love Trilogy: Love Changes, Love Dreams and Love Promises. All three novels are set in Chicago circa 1969 and deal with interracial romance.
 Catrina J. Sparkman has carved out a successful career niche for herself as an authorpreneur of several works of fiction and non-fiction. Including, Doing Business with God, Divine Revelation for a Twitter Generation, Passing Through Waters, Opening the Floodgates and The Fire This Time. Sparkman is a grassroots community theater artist, the author of two original stage plays and one screenplay, Mother Love, The Cinderella Show and The Gospel According to Ruth. Sparkman has also produced, and directed many experimental theatrical pieces such as: Written By Himself-Positive Depictions of Men of Color, and Mary Lou Williams Remember Me.
This event is part of the Ripple Project, a year-long series of free humanities programs focused on racial equity in Dane County public libraries.  Learn more at www.beyondthepage.info/ripple-project.
Art Exhibit depicting the Ice Age Trail and the Driftless Region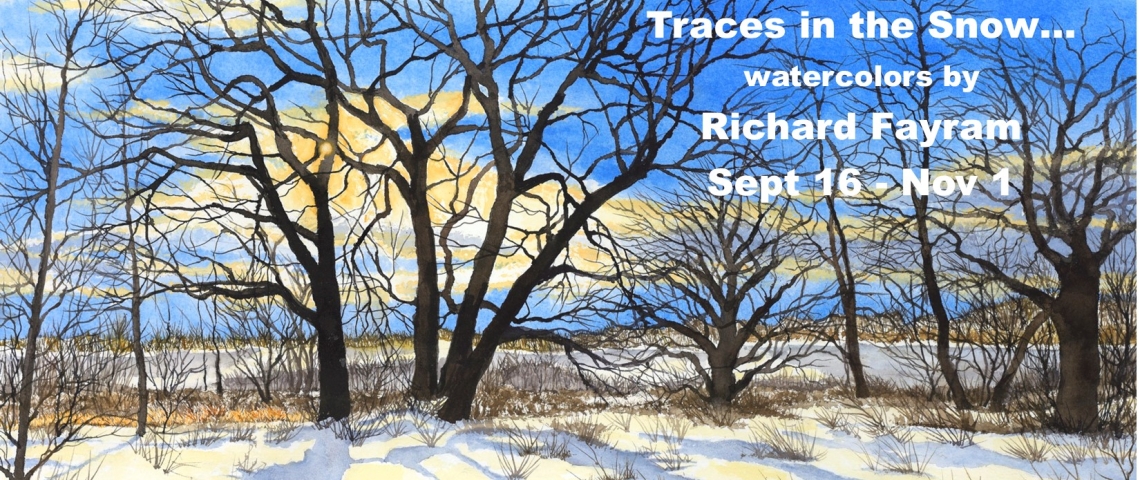 Traces in the Snow…

 

     Richard R. Fayram

 

      Rosemary Garfoot Public Library

      Cross Plains, WI

 

 
An exhibit of original watercolors and limited edition Giclee prints depicting the Ice Age Trail and other areas in the Driftless Region – a resource unique to the Wisconsin landscape.
"Traces in the Snow …" is dedicated to all of us learning to achieve a sense of peace and tranquility that experiencing nature provides.  Richard Fayram found snow to be the parchment of winter on which the stories of winter landscapes are told.  We can experience the shadows of winter wood stretching long across woods and valleys.  Sunlight and shadows dance across the landscape giving it color, pattern, form and movement as time goes by.

Wind sculpts snow to its will in an ever-changing pattern, giving each moment a unique appearance – only to be changed in an instant to something new. As these changes take place, we are left with just a memory of a wonderful moment to savor. The wind, an occasional woodpecker, or a crow cawing in the distance are often the only voices that speak to us. Winter is a time of peace and quiet. Richard believed that all of these things give winter a special meaning in our lives.
Watercolors allowed Richard to express more of the white spaces and Wisconsin winters provided a wealth of subjects. For the last decade, he concentrated on the Wisconsin Ice Age Trail, a resource unique to the Wisconsin landscape, and other natural scenes.
Wisconsin hardwood trees provided Richard with another artistic resource – handmade frames. Types of wood include white oak, maple, and black walnut. These frames are made with exposed joint keys in each corner and hand finished, resulting in a clear natural wood finish.
Go here to learn more about Richard and his work.
Exhibit opens September 16 and runs through November 1.
Introduction to Woodcarving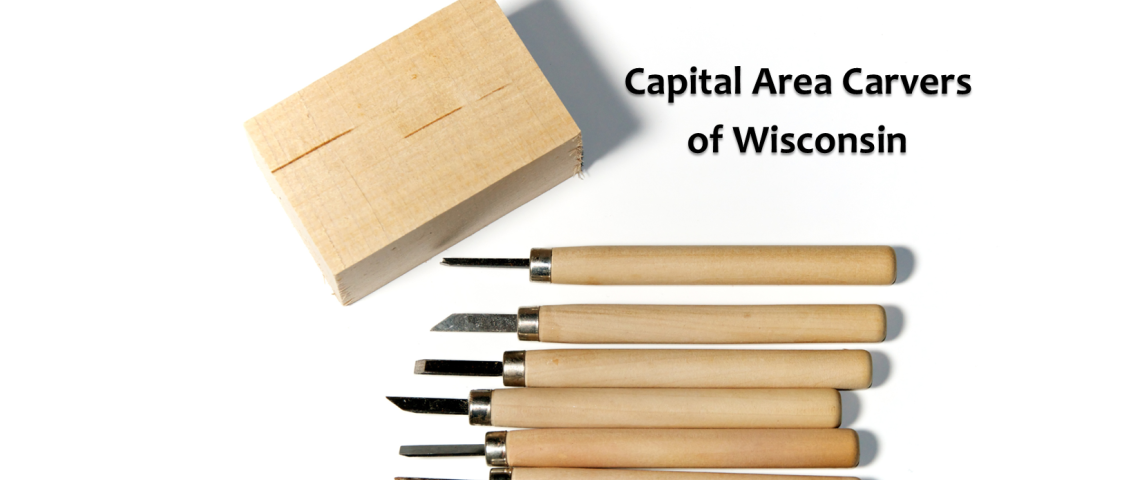 Members or the Capital Area Carvers of Wisconsin will be here to introduce you to basic woodcarving.  In this fun beginner class, you will learn the basic cuts and do two carving projects using those cuts.  In addition, participants will learn how to use the knives, how to keep them sharp, and how to be safe.  Tools will be supplied for the class, and the club will have carving kits available for $30 (cash or check) for folks who are interested. 
Sign up by calling the library at 608-798-3881 or emailing csplib@rgpl.org. 
Minimum age is 14, and anyone 14-18 must be accompanied by an adult who can authorize medical care.  All participants will be required to sign a liability waiver form.  (Sharp knives are inherently dangerous!)