Image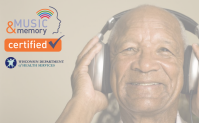 Did you know the Rosemary Garfoot Public Library offers the Music & Memory program? Music & Memory provides personalized music playlists to help promote cognitive function and improve the lives of those living with dementia.
Music & Memory is an international nonprofit focused on using personalized music to improve the quality of life for those with Alzheimer's, dementia, and other cognitive disorders by enabling them to reconnect with the world through music-triggered memories.
In 2013, the Wisconsin Department of Health Services (DHS) became the first in the country to offer the Music & Memory program to all nursing facilities in the state. The Rosemary Garfoot Public Library is helping to expand on that initiative to ensure more people in the community are able to participate.
How to Use Music and Memory
Library patrons can check out an iPod from the library. Each will be pre-loaded with music carefully selected for that particular individual by librarians who have received appropriate certification training.