Let's check out the animal kingdom . . .
and a LOT of stories! We'll see how much we can imagine, learn and enjoy, right from home.  Keep track of how much you read to earn badges! When you complete your reading log, you'll earn a brand new book of your choice. Throughout the summer there will be online performances including a magic show, a storyteller who will lead us on a nature walk, storytimes, a StoryWalk, lunchtime stories from around town, at-home activity challenges, feathered friends to meet in person, and more.

If you prefer to go device free, print out this PAPER READING LOG
Tails and Tales Challenge Pix 
Don't miss these exciting online programs!
MONDAY, JUNE 14, 1 PM
MAGIC MORGAN AND LILIANA! 
Magic Morgan and Liliana combine the art of illusion and comedy to give the audience a program of humor, magic, mime and more. Prepare to be dazzled! Find out more about Magic Morgan HERE.
REGISTER FOR MAGIC MORGAN'S ZOOM PROGRAM
WEDNESDAY, JULY 14, 1 PM
STORIES IN NATURE WITH CORAL CONANT GILLES
Trot, sing, wiggle, dance, and hunt along with Coral and the animals in her stories. Then grab your portable devices, and head outside to explore together - APART! Coral will provide guidance, inspiration, and activities to guide us. We'll share exciting discoveries with each other! Find out more about Coral HERE.
Materials packets available at the library starting one week before the program.
REGISTER FOR CORAL'S STORYTELLING PROGRAM
 WEDNESDAY, AUGUST 4, 10:30 AM
HOO'S WOODS RAPTOR CENTER
Come see some of the winged residents of Hoo's Woods and learn all about the falcons, eagles, owls and other birds that live there. Don't miss this chance to meet Center director, Dianne Moller, who will bring some amazing birds right to the library. Learn more about Hoo's Woods HERE.
***This program will take place outside, in front of the library! Due to social distancing, space is limited. Register early!***
REGISTER FOR HOO'S WOODS RAPTOR CENTER
 TUESDAYS and THURSDAYS, JUNE 22 - JULY 27, 2-4 PM
DUNGEONS AND DRAGONS (ages 10 and older) - TUESDAYS
Come join long time Game Master, Skot Rieffer, and lead your character through some epic adventures! Solve mysteries, fight monsters, and more, while playing  Dungeons & Dragons. No experience is required. Dice, if you have them, paper, and pencil are recommended. Digital dice are available. Limit of 7 - preregistration required.
Program is FULL. To get on the waitlist, contact the library: 608-798-3881.
THURSDAYS, JULY 1 - AUGUST 5
DUNGEONS AND DRAGONS (ages 10 and older) - THURSDAYS
This second session has been added due to interest. To be added to this session, please call Catherine: 608-798-3881 by Wednesday, June 30th by, PM.
  LUNCH BUNCH EVERY FRIDAY AT NOON
WHERE IS MS. CATHERINE THIS WEEK?
Each Friday Ms. Catherine will bring you a story from somewhere in or around Cross Plains. Tune in to our Facebook page at noon on Fridays to try and figure out where she is. Stick around for the story, and then a quick tour of where she is, and who and what she has found to share with you!
TUESDAY TAKEAWAYS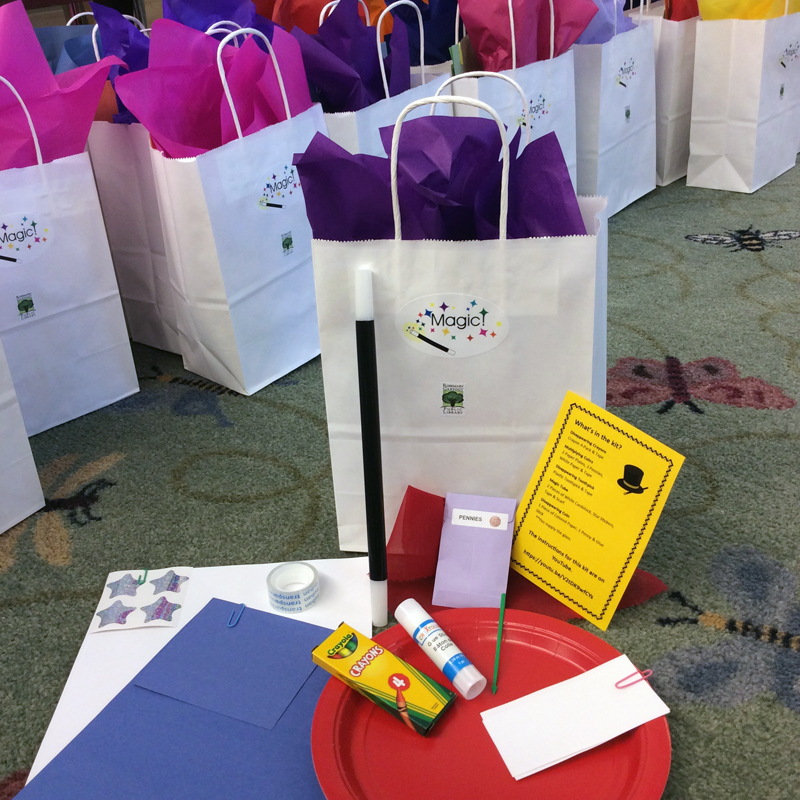 Magic tricks, dragon marionettes, kaleidoscopes, and more - we're bringing the adventure to you this summer! The Library is giving out a new cool Maker Takeaway Kit each week of Summer Library Program-free and fun!
SOME FUN RIGHT AT HOME!
Here are some activities to do at home! For each one you complete you can earn a virtual badge on the Beanstack program or app. Send us a picture of your finished product for our online gallery (Tails and Tales Challenge Pix), too! If you are not using Beanstack, come and get a sticker or bookmark at the library after you send in your photo.
To see what participants came up with last year, see this gallery of pictures.

1. Attend at least 3 library programs and win a magic wand!
2. Dress up like your favorite book character.
3. Create a cover for an animal legend or trickster tale you imagine and bring it to the library to be displayed in our library window gallery.
4. Create a reading nook somewhere in your house or yard.
5. Read a story to your pet, or write to a Puppy Pen Pal! (see webpage)
When:
Monday, June 14, 2021 - 9:00am

to

Friday, August 6, 2021 - 5:00pm
Where:
Rosemary Garfoot Public Library