Monday, March 20- 4:00 - 5:00 PM
The Last Mapmaker
by Christina Soontornvat
Image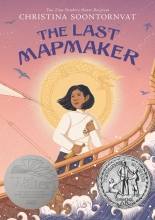 As assistant to Mangkon's most celebrated mapmaker, twelve-year-old Sai plays the part of a well-bred young lady with a glittering future. In reality, her father is a conman—and in a kingdom where the status of one's ancestors dictates their social position, the truth could ruin her. Sai seizes the chance to join an expedition to chart the southern seas, but she isn't the only one aboard with secrets. When Sai learns that the ship might be heading for the fabled Sunderlands—a land of dragons, dangers, and riches beyond imagining—she must weigh the cost of her dreams.
Listen to the author talk about her book here.
This session will be both in person, and online via Zoom. To join us, call Catherine at 608-798-3886.
Copies of the book are available for checkout at the library.
Where
Rosemary Garfoot Public Library - Live and on Zoom
Image