Become a Driftless Explorer
August 15 - October 15
Image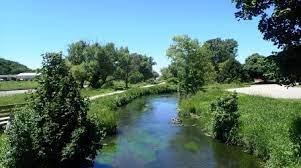 The Gateway to The Driftless organization and the Cross Plains, Black Earth and Mazomanie Libraries have partnered on an activity to get area kids out and exploring the many natural resources in the Black Earth Creek watershed. "Become a Driftless Explorer" is open to kids through age 14 and their assisting adults/caregivers (Guides) to earn "treasure" by visiting at least 4 of the 12 sites contained in their Driftless Explorer Passport by October 15th. At each site, kids will be asked to record various activities they did, such as walk on a trail, look for butterflies, find some yellow flowers and/or take pictures to post on the Gateway's Face Book or Instagram accounts.
Explorers can pick up their "Passport" to fun and adventure anytime at their local library to record any of the 12 area parks, trails or conservancies visited. Turn your passport in to your local Library on or before October 15th to receive your TREASURE:
· Kids Adventurer Treasure - 4 or more areas explored – a Kwik Trip Fresh Blends drink coupon and Library treasure
· Kids Explorer Treasure - 9 or more areas explored – a Cross Plains Culver's Kid's Meal & Kwik Trip drink coupons and Library treasure
· Guides Assisting Kids – Free used book from the Library Friends' book sale and entry into a drawing for a coupon to Crossroads Coffeehouse.
Many thanks to the local Kwik Trip Store and Cross Plains Culver's for their generous donations toward this program.
Where
Rosemary Garfoot Public Library
Image