Library News
Summer Library Program is Here!
This summer will be full of energy as we learn about all kinds of sports, games, fitness and wellness. Keep track of how much you read each week for a chance to spin the Big Wheel, and join a team to race to the finish line for a community donation to the Special Olympics! There will be special performances, storytimes, workshops and Stories in the Park with UW athletes! We'll celebrate at the end of our program with a grand final EVENING POOL PARTY. 
Check out our full list of programs here.
Register for the summer reading program here.
**Special thanks to our summer program sponsors: St. Francis Xavier Catholic Church and School, Midwest Dental, The Friends of the Rosemary Garfoot Public Library, South Central Libray System, Culvers of Cross Plains, Pizza Hut, Schuster's Playtime Farm, Dane County Fair, Madison Mallards and the Milwaukee Public Museum.
Exercise Your Mind! READ!
Summer reading is for adults, too!
Adults 18 and up can sign up at the circulation desk for the adult summer library reading program, Exercise Your Mind – READ!  This summer there are three ways to win as you give your brain a workout!  Every time you check out a book, audiobook, Playaway or magazine (up to three entries per checkout), you will receive a chance to win two ways! First, we will have a weekly drawing for some fun and fabulous prizes.  Second, you will automatically be entered in the drawing for one of our two fantastic grand prizes - a FitBit® Flex Wireless Activity + Sleep Wristband OR a $100 gift certificate from the ShoeBox!  And last, but not least, take our weekly Brain Games challenge, and each week you'll get the chance to win a $20 gift card from a local merchant! 
Cold Comfort Coloring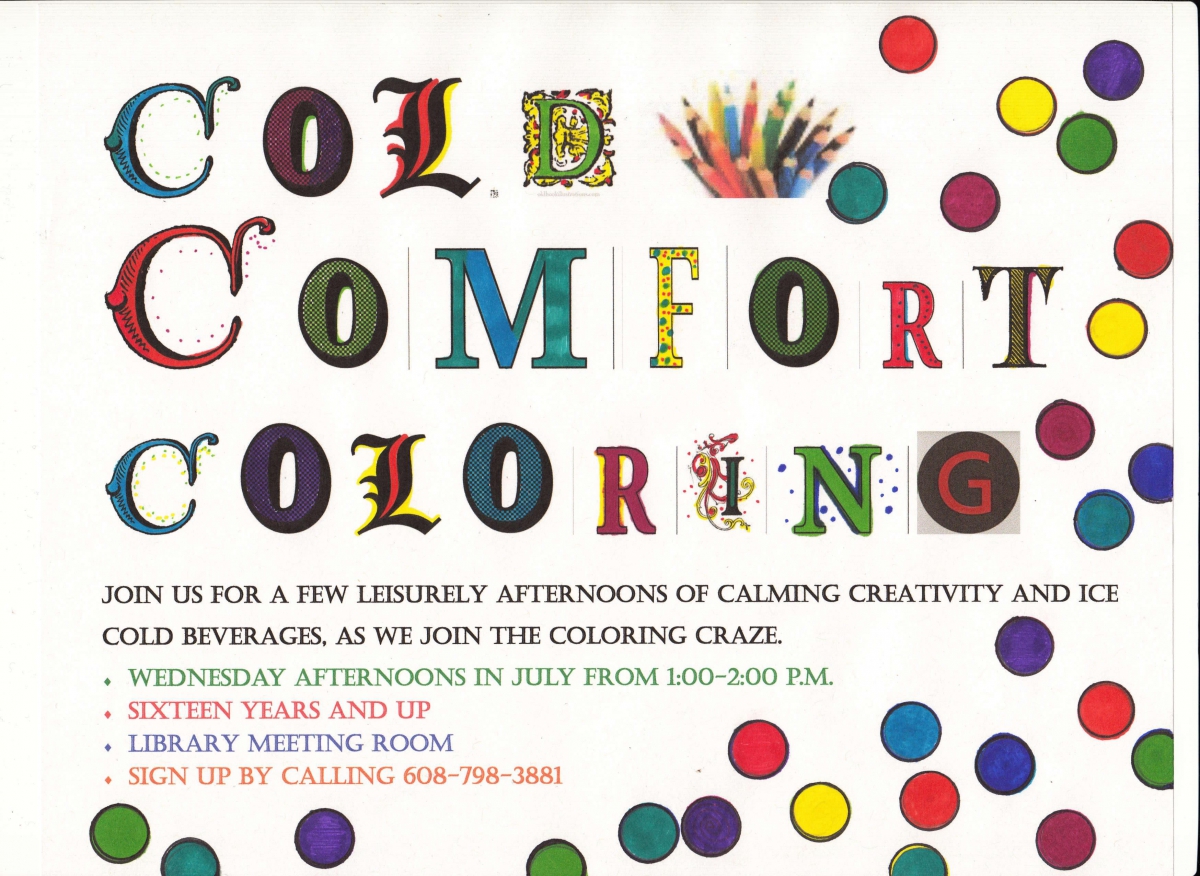 Carpe Librum Book Discussion
ART DONATIONS NOW ACCEPTED!
Storytime News
Super Summer Storytimes
Summer 2016
Join us for SuperTots storytimes on Tuesdays and SuperKids storytimes on Thursdays. We will be joined by some very special guests, check out the full schedule here.
Get Your Cap Times Here!
The library now carries the weekly Cap Times. Stop by each week, and get your free copy
Library is Local Drop-off Site for the Mazomanie Food Pantry
When you return your library materials, don't forget to bring in a non-perishable item for the food pantry. Your donations are much needed and greatly appreciated! No expired or previously opened food, please.
Open Music Jam
Do you have a guitar gathering dust? Are you a harmonica player without a band? Don't play an instrument, but like to sing or simply listen? Stop by the library on Thursday nights at 6:00 and join other area musicians in a weekly music jam! From beginner to way good, all abilities welcome!
Beyond the Page
Join the Beyond the Page campaign, a joint effort of the Dane County Library Service and the Madison Community Foundation to create a permanent endowment that will support humanities programming in all 28 public libraries in Dane County – forever. Please help support our library's access to funding for future programs.
Listen to an interview about the campaign with Tom Linfield of the Madison Community Foundation, Verona Public Library's former director, Brian Simons, and NPR's Kathleen Dunn.
Read WISC Editorial Director Neil Heinen's editorial about the campaign.
eBook News
The library system's Overdrive eBook collection is now compatible with the Kindle, Nook, and Reader as well as other mobile devices. To get started right away go to the Digital Download Center.