September 15 - March 26
For ages 9-18
Here's your chance to find out about some excellent books that will help guide you to a place of better understanding about the lives of others. Join the Read Woke Challenge! The Challenge, a partnership between Zoobean and Read Woke creator, Cicely Lewis, is to select and read books from 10 different categories, including African American voices, Asian American voices, Native American voices, diverse abilities, and more.
If you took part in our 2020 summer reading program and have already signed up to use Beanstack, you do not need to register again. Simply sign into your Beanstack account to begin the Read Woke From Home Challenge! Otherwise, sign up for the program and dive in. Once you have completed all 10 books and the related activities, you will earn a book of your choice from A Room of One's Own Bookstore in Madison.
Be sure and write some reviews to share with others who are looking for good reads too. Dive in and let us know what you discover!
If you'd like more information about Read Woke, read on . . .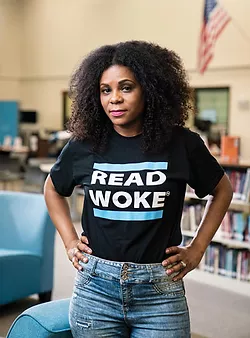 "Read Woke is a movement. It is a feeling. It is a style. It is a form of education. It is a call to action; it is our right as lifelong learners. It means arming yourself with knowledge in order to better protect your rights. Knowledge is power and no one can take it away. It means learning about others so that you can treat people with the respect and dignity that they deserve no matter their religion, race, creed, or color."
​I concluded that a Woke Book must:
• Challenge a social norm
• Give voice to the voiceless
• Provide information about a group that has been disenfranchised
• Seek to challenge the status quo
• Have a protagonist from an underrepresented or oppressed group
​– Cicely Lewis, creator of Read Woke
​
Discover diverse books, log activities, and READ WOKE.