*****STARTING NOVEMBER 9, ONLY 10 PEOPLE WILL BE ALLOWED PER APPOINTMENT UNTIL FURTHER NOTICE*****  (Saturdays are now 10-2)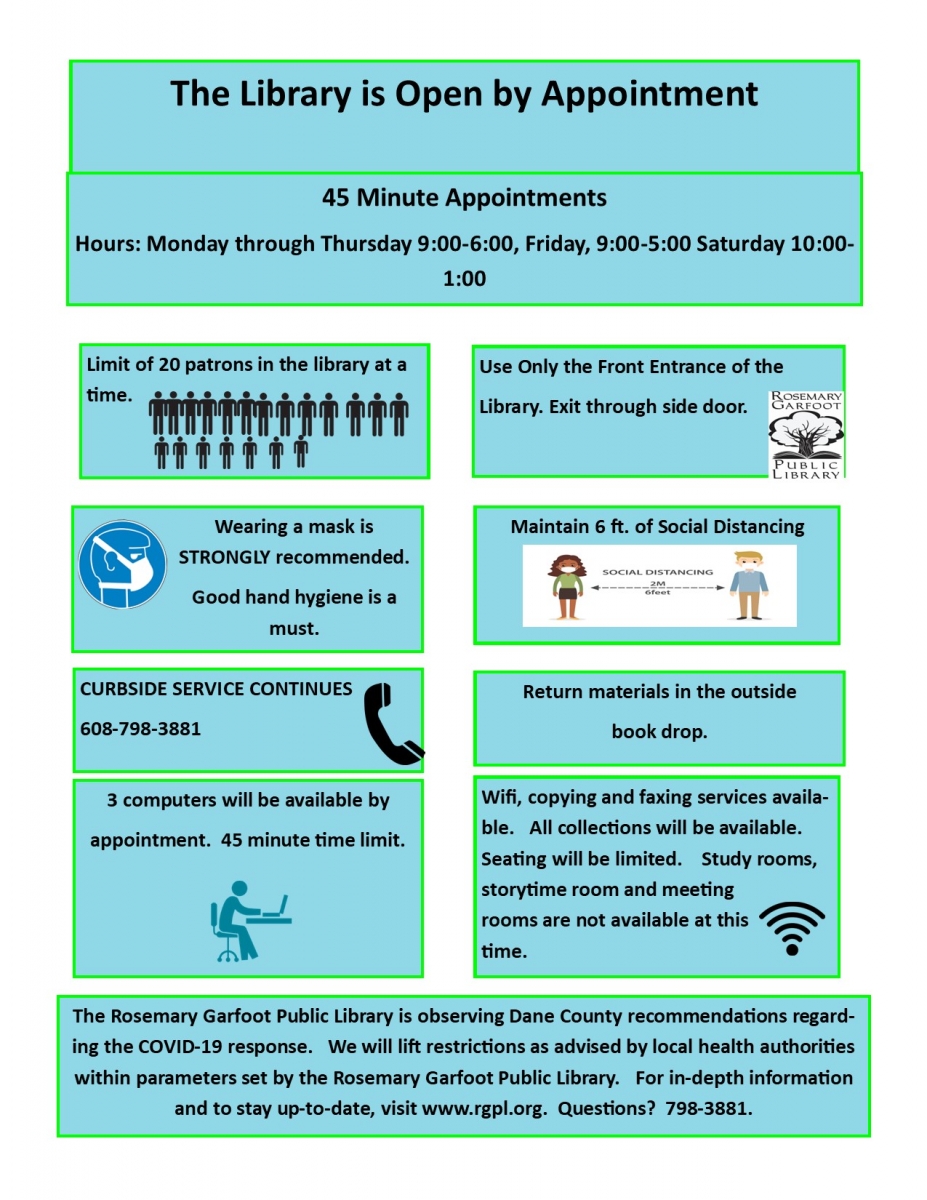 EFFECTIVE NOVEMBER 9, THE LIBRARY IS REDUCING THE NUMBER OF APPOINTMENTS FROM 20 TO 10 PER 45-MINUTE SLOT.  This decision is based on the continued rise of COVID-19 cases in Dane County.
The library is currently open to the public by appointment.  Appointments may be made for up-to 45 minutes.
The Rosemary Garfoot Public Library continues observing Dane County recommendations regarding COVID-19.  We are committed to providing as safe an environment as possible for you and our staff when you visit the library. Therefore, we are opening the library in phases.  During the part 2 phase, all collections and general services will be available.  To accommodate social distancing, furniture has been re-configured or placed in storage.  Study rooms, meeting rooms and the storytime room will continue to be unavailable as those spaces are being utilized for quarantining materials, storage, etc.  We will continually review our safety and operating procedures, make adjustments as needed, and expand access as we are able. Restrictions will be lifted as local health authorities advise and based on the parameters set by the Rosemary Garfoot Public Library Board.  The Library may be closed on short notice by the Library Director if there is a noted resurgence of the virus or if other health and safety issues arise

Library Hours: Monday through Thursday, 9-6, Friday 9-5, Saturday 10-1.

Library Entrance: You will enter through the front door of the library on Julius Street and exit through the side door on Jovina Street. Staff will let you into the building for your appointed visit.  If you need special entry or exit accommodations, please let staff know when you call.
Appointments: We will temporarily be limiting the number of patrons to up to 10 in the building at any given time.  This will be accomplished by scheduling appointments. You may schedule a 45-minute appointment to pick-up and check-out materials, browse magazines and newspapers, access collections, make copies and send faxes. Effective November 9, patrons will only be allowed to make one 45-minute appointment per day.    Three computers will be available for use by appointment.  Appointments may be made for 45 minutes.  Staff will announce when appointments are ending.  Sanitizing will be conducted between appointments.

Safety Measures: For your safety, staff members will wear masks and frequently sanitize their hands and work surfaces.  We ask that you use hand sanitizer when you enter the library, and we would greatly appreciate it if you would work with us to ensure safety all-around by wearing a mask or face covering. We will have some disposable masks available, as well as disposable plastic gloves if you choose to browse through collections. All library materials will continue to be quarantined for at least 96 hours before they are returned to the shelves.
Curbside Service:  Curbside service will continue.  Call for an appointment.

What's Next?: Call (608)798-3881 to schedule your 45 minute appointment.  Watch for information on our website-http://www.rgpl.org and Facebook page about further expansion of access and services.
SPECIAL CONDITIONS
 People experiencing any COVID-19 symptoms should not enter the building.
There will be a limit of 10 patrons (effective 11/23) in the building at a time.  Patrons should be prepared for a brief wait before gaining entry into the building.
Patrons and staff must maintain 6 feet of social distancing at all times.  For staff and patron safety, wearing masks or face coverings is strongly recommended as is practicing good hand hygiene.  Hand sanitizer will be available in the lobby and patrons are urged to use it before entering the Library.  
To enable the observance of 6 feet social distancing, furniture has been re-configured or moved to storage.   All toys, games and assorted activities for in-library use have been removed.
There will be no access to study rooms, meeting rooms or the storytime room.  Most of these areas are being used for quarantining materials and storing furniture.
Staff will disinfect high use surfaces as frequently as possible, but patrons should consider any surface in the library to be potentially contaminated.  
Return of materials, if possible, should be made at the outside book drop to the left of the front doors and around the corner.   Returned materials will be quarantined for 96 hours before being checked-in.     Patrons should call the Library if they have questions about due dates.