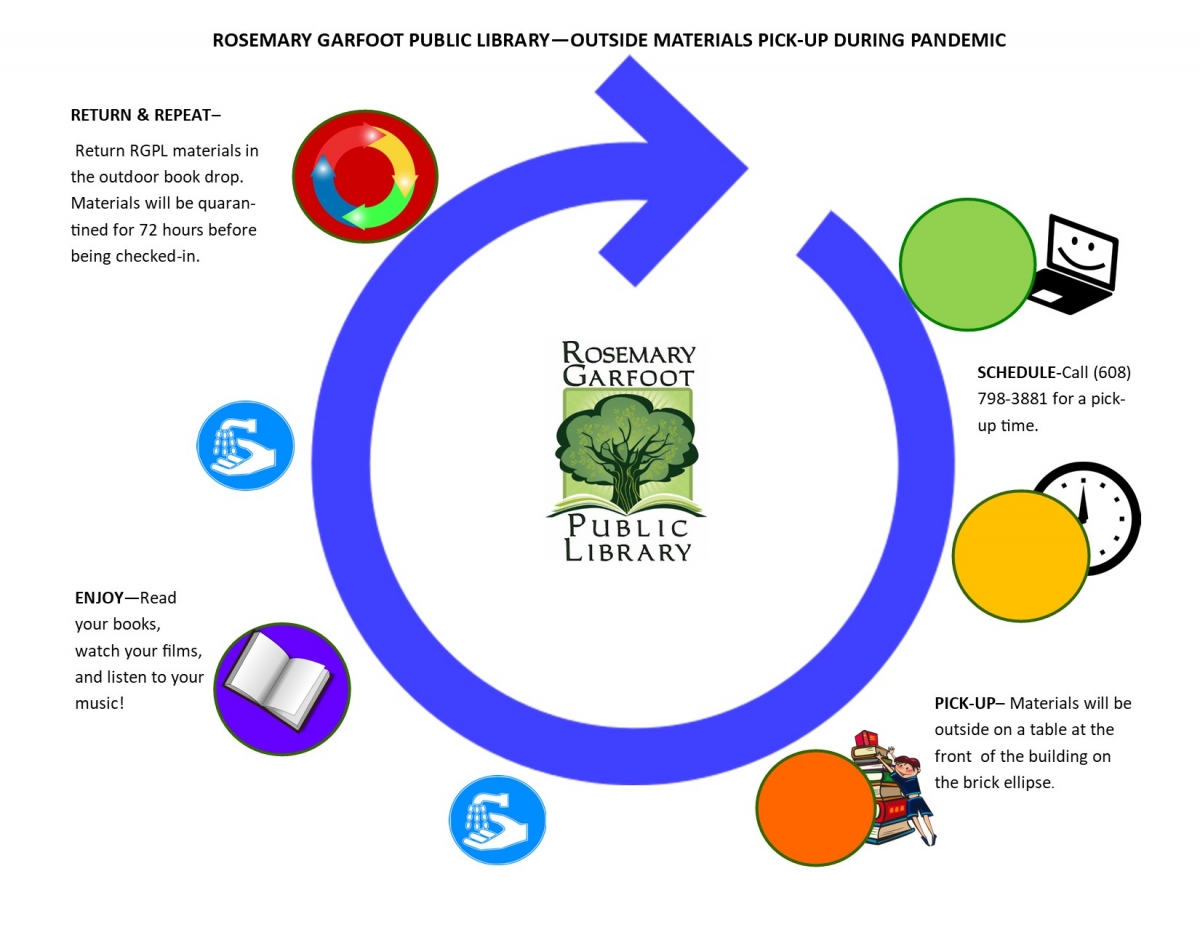 Curbside Service at the Rosemary Garfoot Public Library Continues to Be Available
Reserving Materials
There are three ways you can reserve or order materials from the library.  Calling the library between 9-6, Monday through Thursday, 9-6 Friday, and 10-1 Saturday (608-798-3881), placing holds in LINKcat, or sending an email request to csplib@rgpl.org.  The https://help.linkcat.info/  provides tips on finding available materials at a specific library.   Please allow staff at least one day, Monday through Friday, to pull your selections from the shelf.  You will be notified when the items are ready for you to schedule a pick-up time.
Scheduling Pick-Up
We are offering 15 minute pick-up time slots from 10:00-12:00 & 1:00-5:45 Monday through Thursday, 10:00-12:00 & 1:00-4:45 Friday, 10:00-12:45 Saturday.
You may reserve an available time slot by calling (608) 798-3881.
You must pick-up materials in your reserved time slot.  Materials not picked up, will go back into quarantine for 96 hours.  If you miss your pick-up time, please call for another appointment.
Materials will be checked-out to you before you arrive. 
Pick-Up Location
The designated pick-up location is outside the front entrance if it rains, or near the brick ellipse.  Materials will be placed on tables for pick-up.  
SAFETY PRECAUTIONS
Per the Department of Public Health and adhering to social distancing requirements and restrictions, staff cannot have any physical contact with patrons at this time.
Your materials will be placed on a table for pick-up.  
Please do not approach the table until the library staff member is back in the building.
If you cannot walk to the table, please let us know when you make your reservation.   Staff will deposit items in your trunk.  Please open your trunk before a staff member brings out your materials.  Do not get out of the car at any time a staff member is still outside.
Returning Materials
The outside book return is open.     All returned materials must go through a 96 hour quarantine period before being checked-out.