Teens
Tween Book Group
Monday, September 12 - 4:00 - 5:00 PM
The Strange Case of Origami Yoda
by Tom Angleberger
"It takes the Wisdom of Yoda to survived the sixth grade."
Meet Dwight, a sixth-grade oddball. Dwight does a lot of weird things, like wearing the same T-shirt for a month or telling people to call him "Captain Dwight." This is embarrassing, particularly for Tommy, who sits with him at lunch every day.
But Dwight does one cool thing. He makes origami. One day he makes an origami finger puppet of Yoda. And that's when things get mysterious. Origami Yoda can predict the future and suggest the best way to deal with a tricky situation. His advice actually works, and soon most of the sixth grade is lining up with questions.
Tommy wants to know how Origami Yoda can be so smart when Dwight himself is so clueless. Is Yoda tapping into the Force? It's crucial that Tommy figure out the mystery before he takes Yoda's advice about something VERY IMPORTANT that has to do with a girl.
This is Tommy's case file of his investigation into "The Strange Case of Origami Yoda." - GoodReads.com
Sign up and get a copy of the book at the circulation desk. Or call 608-798-3881 to sign up.
We'll have a snack and try our hand at making our own origami Yoda.
Beading Class
September 21st & October 5th
Judy Arawinko will be here for this two-part class to teach you how to make a beautiful peyote stitch bracelet. Peyote stitch is a hand-weaving technique used to weave beads together using a needle and thread. The result
is a flat-weave band that will be finished with an antique button-and-loop closure. Click here for more details or call Kris at 798-3881.
All materials are provided. Ages 15 and up.
Class size is limited, so sign up is required.
Teen Book Club Interview with author Adam Rex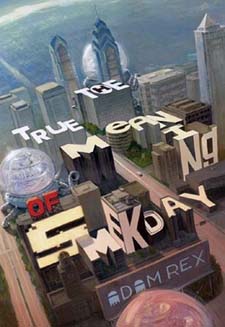 Check out this interview with the author of one of our favorite reads, The True Meaning of Smekday. We have often read the book for an end of the year selection (just because we like it so much). Adam Rex offered to answer questions for our group, take a look at what he had to say.