Teens
Mind Games - The Science of Self Deception
You can't believe everything you think!
Tuesday, September 26th at 6:30 PM
Teens and adults only!
Magician, mentalist, and storyteller, William Pack explores the real science of how our brains trick us into seeing and believing things that don't exist! Click here for more information.
Call 798-3881 to sign up!
Tween/Teen Book Club
Monday, September 25th @ 4:00
What did you read this summer?
It's a new school year! Join us and share your favorite reads from the summer. Eat some tasty snacks, make a new friend, talk everyone into reading a book you loved!
For ages 9 and older. Join us to discuss books and have some snacks. Contact Catherine with questions, 608-798-3881.
The Horse-Human Connection - Animal Ethics
Wednesday, October 11th
Film:  Unbranded @ 6 PM

Discussion: Animal Ethics @ 7:30 PM

Featuring special guest speaker Dr. Robert Streiffe,
UW-Madison, Department of Medical History and Bioethics and the Department of Philosophy
Registration is appreciated. Please call 798-3881 or stop by the library.
We have connected with horses on a deeply personal and emotional level for centuries. Participating Dane County libraries will attempt to study, understand, celebrate and honor this connection in the "Horse-Human Connection" with funding provided
by Beyond the Page. Events kick off with 13 libraries screening the film documentary Unbranded, produced by Ben Masters. The film highlights the beautiful relationship four recent college graduates develop with wild Mustangs as they ride from Mexico to Canada.
Following the film screening, local humanities experts will lead a discussion on various topics. The special guest speaker at the Rosemary Garfoot Public Library is Dr. Robert Streiffer, who will discuss Animal Ethics following the film.
For information about the series, click here.
Teen Book Club Interview with author Adam Rex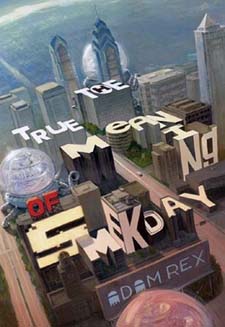 Check out this interview with the author of one of our favorite reads, The True Meaning of Smekday. We have often read the book for an end of the year selection (just because we like it so much). Adam Rex offered to answer questions for our group, take a look at what he had to say.