Teens
HARRY POTTER HALLOWEEN!
Friday, October 28 (No School Day)
1:00 - 4:00 PM
Dress up like your favorite Harry Potter character, bring a carved pumpkin, and think of a good password to convince the lady in the portrait that you belong in the Great Hall at Hogwarts. Join us for a step back in time to the first Harry Potter film, Harry Potter and the Sorcerer's Stone, test your memory with a trivia quiz, enter the contests for best costume and best pumpkin carving, and enjoy some treats from the trolley! 
This event has been planned by a group of Harry Potter enthusiasts who attend local schools, but wish they attended Hogwarts.
Tween Book Group
Monday, November 7
4:00 - 5:00 PM
Hour of the Bees
by Lindsay Eagar
Things are only impossible if you stop to think about them. . . .

While her friends are spending their summers having pool parties and sleepovers, twelve-year-old Carolina — Carol — is spending hers in the middle of the New Mexico desert, helping her parents move the grandfather she's never met into a home for people with dementia. At first, Carol avoids prickly Grandpa Serge. But as the summer wears on and the heat bears down, Carol finds herself drawn to him, fascinated by the crazy stories he tells her about a healing tree, a green-glass lake, and the bees that will bring back the rain and end a hundred years of drought. As the thin line between magic and reality starts to blur, Carol must decide for herself what is possible — and what it means to be true to her roots. Readers who dream that there's something more out there will be enchanted by this captivating novel of family, renewal, and discovering the wonder of the world. – GoodReads.com
Get a copy of the book at the circulation desk. Or call 608-798-3881 to sign up.
Introducing...The Essential P.T. Barnum
Monday, November 7th at 6:30 PM
This program is intended for teens and adults.
Please call 798-3881 to sign up.
Years before he revolutionized the circus, P.T. Barnum was the most famous man in the world. Magician, Mentalist, Entertainer, and Storyteller William Pack reveals the amazing life of P.T.Barnum through storytelling and recreations of historical sideshow performances.
HEAR the life lessons that shaped this great American showman, MEET the extraordinary people that changed his life, and EXPERIENCE the wonders of his American museum.
This is a free program made possible by a Beyond the Page mini-grant.
Teen Book Club Interview with author Adam Rex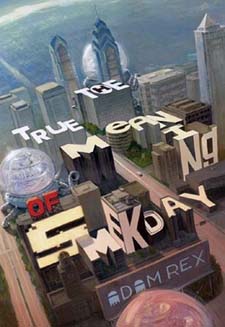 Check out this interview with the author of one of our favorite reads, The True Meaning of Smekday. We have often read the book for an end of the year selection (just because we like it so much). Adam Rex offered to answer questions for our group, take a look at what he had to say.