Teens
Spring Break Family Book Group
Monday, March 26th - 6:30 - 7:30 PM
School's Out - Start your spring break with a discussion of the Newbery Award winning classic novel
A Wrinkle in Time by Madeleine L'Engle
* * There will be a drawing for 4 free tickets to the new Disney movie, opening in theaters March 9th * *
The first 12 families to sign up will get a free copy of the book.
It was a dark and stormy night; Meg Murry, her small brother Charles Wallace, and her mother had come down to the kitchen for a midnight snack when they were upset by the arrival of a most disturbing stranger. 

"Wild nights are my glory," the unearthly stranger told them. "I just got caught in a downdraft and blown off course. Let me be on my way. Speaking of way, by the way, there is such a thing as a tesseract". - GoodReads.com
Refreshments too!
Sign up and get your free copy of the book at the Circulation Desk at the library, or call 798-3881.
Cooking with Chef J. Miller
Wednesday, March 28th: 2-3:30 (ages 4-8, children under 7 will need a grown-up helper)
Thursday, March 29th: 2-3:30 (ages 9-17)
Join Chef J. Miller of RedBarn Catering and make a variety of tasty sweet and savory tartlets from scratch. Explore different flavor combinations, like Pears & Rosemary, Goat Cheese & Honey, Strawberries & Vanilla, and many more! Captivate all the senses in this fun introduction to cooking. 
Participants with dietary restrictions welcome. Please specify restriction upon registration. Please call 798-3881 to register!
Teen Book Club Interview with author Adam Rex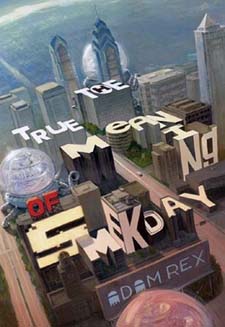 Check out this interview with the author of one of our favorite reads, The True Meaning of Smekday. We have often read the book for an end of the year selection (just because we like it so much). Adam Rex offered to answer questions for our group, take a look at what he had to say.