Teens
Tween Book Group
Monday, October 10th 4:00-5:00 PM
Raymie Nightingale by Kate DiCamillo
"Raymie Clarke has come to realize that everything, absolutely everything, depends on her. And she has a plan. If Raymie can win the Little Miss Central Florida Tire competition, then her father, who left town two days ago with a dental hygienist, will see Raymie's picture in the paper and (maybe) come home. To win, not only does Raymie have to do good deeds and learn how to twirl a baton; she also has to contend with the wispy, frequently fainting Louisiana Elefante, who has a show-business background, and the fiery, stubborn Beverly Tapinski, who's determined to sabotage the contest. But as the competition approaches, loneliness, loss, and unanswerable questions draw the three girls into an unlikely friendship — and challenge each of them to come to the rescue in unexpected ways".  – GoodReads.com
Stop by the library for a copy and sign up for the book club.
For more information contact Catherine at 608-798-3881.
Documentary Film - Anthropocene
Monday, October 24th @ 6:00 PM
Please call 798-3881 to sign up.
Find out why scientists think we have left the Holocene epoch and have entered into a new geologic age where the planet is shaped more by mankind than by nature and what this may mean for the future. With archival footage, award-winning stills, and interviews, ANTHROPOCENE proposes a common secular narrative for mankind, but leaves viewers to decide how we should write the ending. Run time 97 mins.
Teen Book Club Interview with author Adam Rex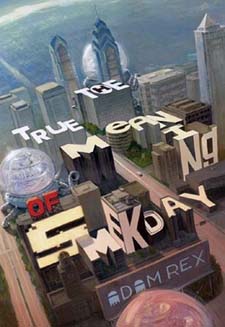 Check out this interview with the author of one of our favorite reads, The True Meaning of Smekday. We have often read the book for an end of the year selection (just because we like it so much). Adam Rex offered to answer questions for our group, take a look at what he had to say.